Emanuel Fakoukakis
Chief Innovation Officer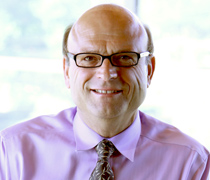 Emanuel Fakoukakis is the Chief Innovation Officer of Shaklee Corporation. Emanuel leads the Research and Development function and is responsible for creating a robust and sustainable product and package innovation program, in support of the company's global growth objectives. The innovation program covers the company's portfolio across the Nutrition, Personal Care, Household, and Environmental products.
Emanuel brings over 30 years of experience in consumer product innovation. While at Procter & Gamble, he worked in the development of new products in many different categories, including household care and laundry products, household paper products and, most recently, in electronics: devices and battery power. Among his accomplishments, Emanuel has led global R&D organizations, has built new technical centers to drive innovation from concept to successful commercialization, and he led Procter & Gamble's new "open innovation" capability to identify and develop new technology with external innovation and supply partners. In addition, Emanuel has traveled extensively. He has lived and worked around the world, including Belgium, the Philippines, Japan and the US, giving him valuable insight to support the company's global mission.
Emanuel has a Bachelor of Science in Engineering from the Aristotle University of Thessaloniki, Greece and a Master of Science, Chemical Engineering from the University of New Hampshire.