Dr. Jamie McManus M.D., FAAFP
Chair, Medical Affairs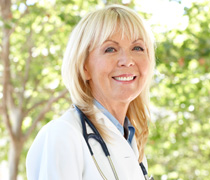 Jamie McManus, M.D. is the Chair of Medical Affairs for Shaklee Corporation. In this capacity, she provides medical expertise and perspective regarding clinical studies, product development as well as delivering much of the educational messaging related to health and wellness.
Dr. McManus received her B.S. in Biological Sciences and M.D. from the University of California at Davis where she graduated with Honors. She was awarded membership in the prestigious Alpha Omega Alpha Medical Honor Society. After completing her residency in Family Practice and achieving Fellowship in the American Academy of Family Practice, Dr. McManus practiced family medicine in California and Washington for 15 years with special emphasis in preventive medicine and women's health.
"Dr. Jamie," as she is known to people around the world, truly believes in nutrition as the basis of good health. "I have always enjoyed sharing my personal perspectives, as well as teaching my patients about the importance of nutrition, exercise, supplements and herbs. People today are interested in any news about health, wellness and graceful aging; indeed, around the world people have this focus."
Dr. McManus has shared her knowledge of nutrition, weight management, exercise, and healthy lifestyle on stage, radio, and television for many years. She has spoken to millions of people and led seminars for healthcare professionals in over 44 countries around the world. Dr. McManus has published articles on health topics in many dozens of magazines and newspapers in at least 20 countries. Dr. McManus's first book, Your Personal Guide to Wellness–what your Doctor doesn't have time to tell you, was published in the summer of 2004. This book provides an overview of information about nutrition, weight control, the use of supplements, how to manage stress as well as priceless information and advice regarding the use of supplements and herbs to assist with the management of many of the most challenging chronic diseases.